In the Fall of 1920, local Atlantic City, NJ business owners devised a scheme to extend the tourist season into September. They planned to stage an "inter-city" beauty contest where local newspapers would select contestants and pay for their wardrobe. The Atlantic City Businessmen's League would pay for their travel to the contest. Newspapers in eight cities selected contestants to compete.
The first pageant, held over two days in September 1921, boasted 9 hopefuls from New York, New Jersey, and Pennsylvania. By the second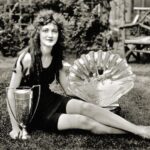 day, there were two front-runners: 22-year-old Virginia Lee and 16-year-old Margaret Gorman. In the end, the judges disqualified Lee at the last minute because she was deemed a professional rather than an amateur like the other contestants because she was 1) a working actress, 2) married, and 3) a friend of the competition's chief judge. Five-foot tall Gorman was crowned the "Golden Mermaid" and won $100 and a trophy.
That first pageant saw 100,000 people gather at the Boardwalk to watch the contestants.
The earliest pageants were based solely on physical beauty and characteristics (the talent portion was not added until 1945, and swimsuits were eliminated in 2018). Despite an ordinance that forbade women baring their knees on the beach, the contestants were required to wear bathing suits.
Returning in 1923 to defend her crown against 70 other young women, Gorman lost her title to Mary Campbell of Columbus, Ohio. Campbell won a second time in 1923. Pageant officials subsequently established a rule that a woman cannot hold the title more than once.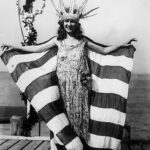 One cannot help but see the irony of the inaugural pageant taking place almost exactly one year after the ratification of the Nineteenth Amendment, which gave women the right to vote. And that it was men who created a new scenario in which women would be voted upon.
Throughout the twenties, the pageant was not much more than a publicity stunt — a hustle. As its renown grew, the organizers sought a degree of respectability, but the rule breakers and scandal thwarted their efforts. In 1923, Miss Alaska was disqualified on the grounds that she was a New York resident and a married woman. A recent immigrant from Sweden, she had only spent three days in Juneau before entering the contest.
Fun Fact #1: California, Ohio, and Oklahoma can each claim 6 winners. New York has entered 7 winners, but winner Vanessa Williams (Miss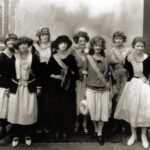 America 1984), the first Black woman to wear the crown, resigned, leaving NY with 6 as well.
Fun Fact #2: On February 1, 1919, a beauty pageant was held at the Chu Chin Chow Ball at the Hotel des Artistes in New York City. It attracted the most prominent artists and models. The ball's beauty contest had been promoted beforehand, and the event drew socialites, artists, and several hundred young women. It was a costume ball with an emphasis on "oriental" costumes. The winner, Edith Hyde Robbins Macartney, was presented with a golden apple as her trophy and called "Miss America," although neither the title nor this pageant was related to the current "Miss America Pageant." Hyde's harem outfit, which was heavily jeweled and embroidered, would later be restored and insured for $80,000. She later became a fortune teller under the pseudonym Pandora.