Don't get mad, get even. That might well have been the motto of female athletes in the 1920s.
Participation in the ancient Olympic Games was limited to male athletes only. At the first modern Olympic Games in Athens 1896, no women competed, as Baron de Coubertin, founder of the International Olympic Committee, and its second president, felt that their inclusion would be "impractical, uninteresting, unaesthetic, and incorrect."
Women first competed at the 1900 Paris Games. Of a total of 997 athletes, 22 women competed in five sports. Women were allowed to compete in lawn tennis and golf, though there were three French women competing in croquet and there was at least one woman sailor as part of mixed crews.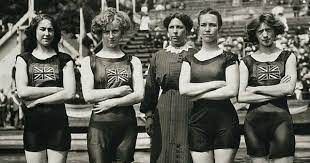 Swimming was one of the few sports women could compete in at the 1912 Olympic games., where the United Kingdom team took home gold.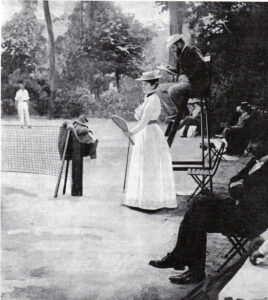 None of the swimmers were from America, which did not allow its female athletes to compete in events without long skirts!
Although the Olympics echoed the gender and class structures of the time, the prevailing discrimination and marginalization sparked an innovative response. In the 1920s, dissident athletes teamed up in solidarity with sympathetic supporters to organize alternative athletic competitions rooted in principles of equality. To challenge IOC sexism, women and their allies organized alternative games, a vital yet largely forgotten act of political dissent.
Female athletes organized their own games from 1922 to 1934.
The 1921 Women's Olympiad was held in Monte Carlo on 24-31 March and featured competitors from just five nations: France, the United Kingdom, Switzerland, Italy, and Norway. The venue for the games was a lawn in front of a pigeon shooting range, just below the Monte Carlo Casino. Crowds watched dozens of women run hurdles, throw javelins, and play basketball.
The 1922 Women's World Games (Jeux Olympiques Féminins) were the first regular international Women's World Games and the first track and field competitions for women. The tournament was held on a single day in August in Paris. Athletes from five countries (Britain, Czechoslovakia, France, Switzerland, and the United States) competed in 11 events: running (60 meters, 100 yards, 300 meters, 1000 meters, 4 x 110 yards relay and hurdling 100 yards), high jump, long jump, standing long jump, javelin and shot put.
Of those games, the New York Times stated "[the event] was notable for the development of women athletes in all branches of competitions fitting to their sex. Remarkable progress was made by them, and almost overnight, they assumed a place of great prominence in the world of athletics." Adding that no longer were "girl athletes … a decided novelty," but "capable of impressive performances."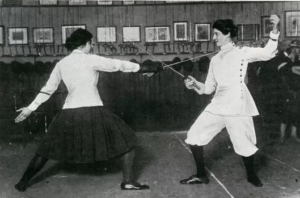 Four years later, eight countries took part in the Gothenburg event. In 1930, Prague played host to a three-day gathering featuring over 200 female athletes from 17 countries. The event drew more than 15,000 spectators.
The 1934 London Games saw 19 participating countries and the addition of basketball to the slate of track and field events. By 1936, the group had increased membership from five to 30 countries and had secured allies in the International Association of Athletic Federations (IAAF), but, its leadership regretfully acknowledged that "no matter how determined they were and no matter how good their arguments were, women could not get very far without the support and alliance of the male sport establishment." By this time, the IOC had taken notice and implemented changes to assimilate women athletes.
For the 1932 Summer Olympics in Los Angeles, the women's javelin throw and 80 meters hurdles were added. At the 1936 Winter Games in Garmisch-Partenkirchen, women competed in the alpine skiing combined event for the first time. By 2020, 48.7% of Summer Olympics participants were female.