Motel (n.)
an establishment which provides lodging and parking and in which the rooms are usually accessible from an outdoor parking area. First used in 1925, coined from motor + hotel. Originally a hotel for automobile travelers.
For those of us of a certain age, the sight of an orange roof, cupola, and weather vane could only mean one thing: Howard Johnson's — a roadside icon for weary travelers during much of the 20th century. To me, that translated as chicken pot pie, ice cream, and a roll-away bed in a room with my brothers.
But what about earlier travelers?
The number of registered drivers in the US increased from about 8 million to almost three times that number between 1920 and 1930. The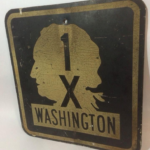 emergence and popularization of the automobile inspired many car owners to venture beyond commuting into town, but the poor roads of the era, combined with lower vehicle speeds and reliability, turned the 400-mile trip from LA to San Francisco into  two or more days of nearly all day driving. Anything beyond a 30 or 40 miles round required an overnight stay. While some didn't mind pitching a tent or sleeping in their cars, others sought more comfortable accommodations. And often found themselves disappointed if their planned (or forced) stop didn't happen to offer a hotel or inn. This was often the case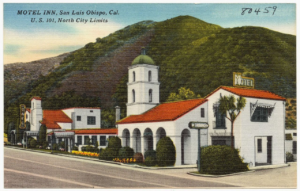 In March 1925, the Milestone Interstate Corporation proposed building and operating a chain of motor hotels between San Diego and Seattle, the hotels to have the name 'Motel.' The first of these opened on December 12, 1925, in San Luis Obispo — mid-way between Los Angeles and San Francisco. A room cost $1.25 per night ($20.26 in 2022 dollars).
The Milestone Mo-Tel was a prototype. The owners envisioned building a chain of eighteen motor courts at 150–200 mile intervals throughout California, Oregon, and Washington state – intervals equal to a day's drive under 1925 conditions. Due to competition and lack of investment funds, the planned chain died before a second location opened. but a new phase of the hospitality industry was born.
Guess we all have Arthur and Alfred Heineman to thank for making Psycho, Schitt's Creek, Identity, and Bad Times at the El Royale possible.