During the 1920s motion pictures played a huge role in social life for people of all ages but especially those in their teens and early twenties — probably after they discovered those dark, secluded back theatre rows.
The first public exhibition of projected sound films took place in Paris in 1900, but it would be decades before sound motion pictures were made commercially practical. Reliable synchronization, and amplification and recording quality were problematic. 1923 was a break-through year.
Not only was Warner Bros Pictures incorporated in 1923, but Lee De Forest demonstrated a sound-on-film system which would make possible talking motion pictures, among countless other applications. On April 15, 1923 de Forest premiered 18 Phonofilm short films at the Rivoli Theater in New York City, however, his choice of primarily filming short vaudeville acts, instead of full-length features, limited the appeal of Phonofilm to Hollywood studios.
Starting in May 1924, brothers Max and Dave Fleischer used the Phonofilm process for their series of short three-minute cartoons—pioneering the "Follow the Bouncing Ball" gimmick used to lead audiences in theater sing-alongs. The Song Car-Tunes series, which ran from 1924 through 1926, eventually totaled 36 films, of which 19 were made with sound, beginning with Come Take a Trip on My Airship, followed by Oh Mabel, Dixie, My Bonnie Lies over the Ocean, Swanee River, and others.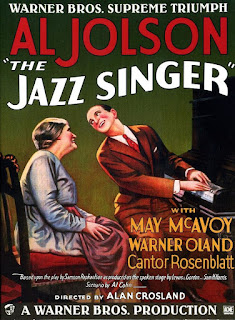 By the mid-1920s, Tin Pan Alley was producing songs and music specifically for motion pictures. The first successful movie "theme song" — Charmaine — was released in 1926, scored for theatre orchestras to accompany Fox Film's silent comedy-drama war movie What Price Glory?. Delores del Rio played Charmaine. On January 21, 1927, a short film of singer Raquel Meller was shown before this feature in New York City. The short film, not quite synchronized, was the first public presentation of a film in the
Fox Movietone sound-on-film system; that same month Fox re-released What Price Glory? with synchronized sound effects and music in its Movietone system.]
The first sound films which included synchronized dialogue, known as "talking pictures", or "talkies", were exclusively shorts. The earliest feature-length movies with recorded sound included only music and effects. October 1927 finally saw the first feature film originally presented as a talkie: The Jazz Singer, starring Al Jolson and featuring Warner Oland (more widely recognized as Charlie Chan).