When I say "TV series set in the 1920s," what comes to mind? Most people would immediately respond Upstairs Downstairs and Downton Abbey. Some might add Peaky Blinders.
As a mystery writer, my list is a little different: Murdoch Mysteries, Miss Fisher Mysteries, and Frankie Drake Mysteries
The Roaring Twenties, aka the Jazz Age, were a period of great social and political change. Women won the right to vote and entered the workforce in greater numbers, and scientific inventions debuted with amazing speed. These themes are all prominent in the shows on my list — along with murder, of course.
Murdoch Mysteries
I'm cheating a little to include this series set in the late 1890s and early 1900s, but for me, it is the one of the best period shows. This often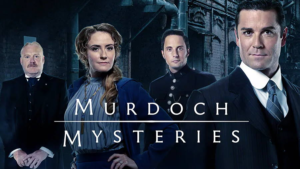 tongue-in-cheek show features a young Canadian detective who relies on up-and-coming scientific techniques and inventions to solve his cases. Along the way, he runs into famous historical figures ranging from Harry Houdini and Mary Pickford to Thomas Alva Edison and Winston Churchill. Based on Maureen Jennings' successful mystery series, the show features historically accurate costumes and sets, as well as stories inspired by true-to-life events. It also does not shy away from issues such as homosexuality, mental illness, race relations, religious prejudice, and women's rights.
Miss Fisher's Murder Mysteries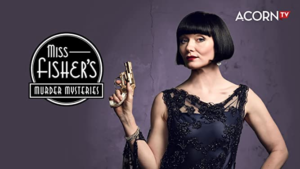 Phryne Fisher is a woman of many talents. She can fly a plane, drives a Hispano-Suiza, and speaks several languages (including Russian, Chinese, French, Italian, and Polish, but not Latin), wears trousers as well as designer gowns, and dances a mean Fan Dance. Raised in poverty in Australia, she becomes "the Honourable" when her father inherits a British title. But she never forgets her humble roots and is generous with her money. Phryne is also a private detective on the level of . . . Sherlock? Hercules? It's hard to say. She is unique in so many ways. Her methods are unorthodox and often socially challenging, but with the help of her maid Dot, and two "red ragger"(Aussie for communist) taxi drivers, she solves more than her fair share of crimes. And her wardrobe would make any woman envious. Like Murdoch Mysteries, the series' writers frequently target social and class issues.
Frankie Drake Mysteries
Frankie Drake operates on the other side of the world from Phyrne, but she is also a female private. In fact, she and her partner Trudy run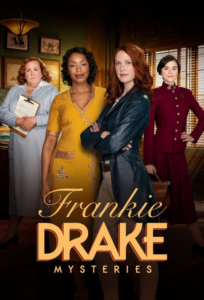 Toronto's only all-female private detective service. With a red motorcycle rather than a flashy car, less money and fewer clothes than her Aussie counterpart, Frankie holds her own when it comes to dealing with flyboys, rum-runners, gangsters, and con men. Like Phryne, she is the daughter of a ne'er-do-well conman and can spot one in a crowded room. They also share a taste for green tea and strong coffee, and handsome men.
Any similarity to Murdoch Mysteries is not coincidental. Michelle Ricci, a Canadian writer, co-created Frankie Drake Mysteries with fellow writer Carol Hay while sharing an office, working on Murdoch Mysteries. Ricci wrote 14 episodes of Murdoch Mysteries. In a tongue-in-cheek nod to an earlier series, Frankie encounters older versions of Inspector Thomas Brackenreid, Detective Llewellyn Watts, and George Crabtree from the Murdoch Mysteries. Real historical figures appear here, as well. Various episodes feature Mack Sennett, Ernest Hemingway, Agatha Christie, and Coco Chanel, and social issues of civil rights, eugenics, and drug addiction.