A Belgian detective, a soldier recovering from duty on the Western front, and a Scotland Yard detective walk into a country manor . . .
It doesn't take a genius to recognize the beginning of an Agatha Christie mystery. It is, in fact, Christie's first mystery, The Mysterious Affair at Styles, written during World War I and published in October 1920.
Christie wrote the manuscript on a dare from her sister that the author, who had previously never written a book, could not compose a detective novel in which the reader would not be able to 'spot' the murderer, though having access to the same clues as the detective.' Christie won the £25 bet.
Styles introduced readers to Hercule Poirot (a character inspired by the WWI Belgian refugees who had settled in Christie's hometown of Torquay), Inspector (later, Chief Inspector) Japp, and Arthur Hastings. In a nutshell (no spoilers), Poirot is settling in England near the home of Emily Inglethorp, who helped him to his new life. His friend Hastings arrives as a guest at her home. When Mrs Inglethorp is murdered, Poirot uses his detective skills to solve the mystery, tying all the clues and details up in a tidy little reveal at the book's end.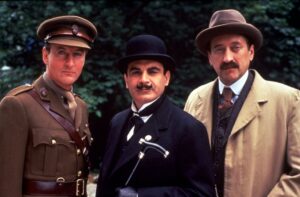 The story is told in the first person by Hastings, and features many of the elements that have become icons of the Golden Age of Detective Fiction, largely due to Christie's influence. Set in a large, isolated country manor., there are a half-dozen suspects, most of whom are hiding embarrassing or incriminating facts about themselves. The plot includes a number of red herrings and surprise twists, designed to lead both Poirot and the reader down circuitous plaths.
The Mysterious Affair at Styles reflected the British mores and thinking of the time. It is something of an 'Everyman Morality Tale', the hunting down of Evil and the triumph of Good, wrapped in the constraints of the Edwardian social hierarchy and the trappings of Great Britain that existed during World War I. Reviews of Christie's first literary effort were enthusiastic and positive. One, in The Times Literary Supplement, noted that "The only fault this story has is that it is almost too ingenious."
Factoid: The Mysterious Affair at Styles launched Christie's writing career. Christie and her husband later named their house "Styles". Decades later, when Christie wrote the story of Poirot's final case in Curtain, she also set that novel at Styles, where her famous detective is joined one last time by Hastings.