School is out, the temperatures are soaring, and the lines at the ice cream stand are out the door. It's a summer rite of passage.
In the first decades of the twentieth century, street ice cream was usually sold from pushcarts. The quality (both of raw ingredients and end product) left a lot to be desired. Food poisoning was a not infrequent result.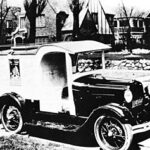 By 1919, Christian Nelson, an Iowa store owner, discovered how to coat an ice cream bar with chocolate, inventing the Eskimo Pie. One year later, Harry Burt, a confectioner and ice cream parlor owner from Youngstown, Ohio, decided to replicate the treat. He set about creating a chocolate coating compatible with his own ice cream. His daughter deemed it delicious but messy to eat. Burt's had earlier invented the Jolly Boy Sucker, a sweet on a stick. His son suggested freezing a similar stick into their ice cream to create a "handle". And just like that, the "Good Humor Ice Cream Sucker" was created.
He applied for a patent and in 1923, after waiting three years, he carried a five-gallon pail of Good Humor bars to Washington. He thought that if the patent officials sampled his invention, they would realize its singularity. His approach worked—partially. In October 1923, he was granted patents for both the process and manufacturing equipment, but not for the product. This would later become the subject of a lawsuit.
Around the same time, Frank Epperson started marketing frozen ice on a stick and formed the Popsicle Corporation. Popsicle received its patent in August 1924. Six months later, Good Humor sued Popsicle Corporation, and by October 1925 the parties settled out of court. Popsicle agreed to pay Good Humor a license fee to manufacture what was called "frozen suckers" from ice and sherbet products. Good Humor reserved the right to manufacture these products from ice cream and frozen custard.
Burt was a genius at branding and marketing, as well as distribution. Not only did he subscribe to the principle of standardized ingredients and production, but he outfitted a fleet of twelve white trucks, each equipped with a freezer and bells to attract public attention. His drivers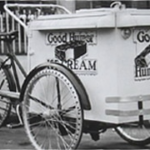 wore uniforms similar to hospital orderlies and were told to always have a clean shave and neat haircut. Good Humor creations were soon being sold from trucks and push carts around most of the country.
Burt's widow sold the rights to the Good Humor brand some time after her husband's death in 1926. Burt's son, Harry B. Burt Jr., kept a Good Humor franchise.
Fun fact #1: Good humor also benefited from, of all things, prohibition. Americans sought comfort in this indulgence after the other was taken away. Ice cream consumption rose about 40% during the 1920s.
Fun fact #2: the first Good Humor truck bells came from Burt's son's bobsled.