Women's fashions may have stolen the headlines during the 1920s, but men's wear flourished nonetheless.
In 1818, Henry S. Brooks opened a clothing store on the corner of Catherine and Cherry Streets in Manhattan, which was the early 19th century garment district where some of the first textile wholesalers in Manhattan were located (Lord & Taylor opened two blocks away in 1846). After his death, the business passed to his four sons -- the Brooks Brothers -- rebranded the store with its eponymous name  and adopted its current logo, the Golden Fleece from the Greek mythological tale of Jason and the Argonauts.
In 1849, Brooks Brothers started selling men's clothing ready-to-wear, pre-tailored to standardized dimensions when New Yorkers and New Englanders flocking to the California Gold Rush had no time to wait to have their clothing made. In 1901, the store released the "No. 1 Sack Suit," featuring straight-legged trousers with a single-breasted jacket with no padding, a single slit back vent, a straight silhouette and low armholes. It was the first mass-produced suit that helped popularize and codify standards of 20th century men's business attire.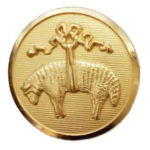 The iconic apparel maker, known for its men's suits, thrived during the Roaring 20s. Prior to that time, the brand maintained a presence in only one places outside of New York. Not in one of the other bastions East Coast society, such as Boston, Philadelphia or Washington, but in the preferred sailing playground of New York's elite: Newport , Rhode Island where salesmen provided captains of industry and yachts with sporty white flannel pants and brass-buttoned blazers. The blazers, of course, featured the store's trademark 'Golden Fleece' logo.
Brooks Brothers appropriated a British tradition of diagonally striped ties, each with their own significance denoting military regiments, elite schools, and private clubs, but they reversed the diagonal before selling them to Americans.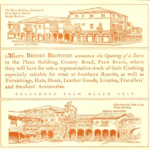 In 1924, when long-distance travel allowed the beau monde easy access to further flung waters, Brooks Brothers opened another store in Palm Beach in 1924.
My grandfather was a tailor. He operated his own store on Fifth Avenue where he made custom women's clothing before joining Brooks Brothers, so that venerable clothing store is a part of my history.
He retired as manager of all clothing departments and clothing factories for the company, though he continued to take buying trips to England and Scotland after his retirement. For as long as I can remember, he, my father, and both my brothers were outfitted at the New York flagship store at 346 Madison Avenue, a store that opened over 100 years ago on August 2, 1915.
Fun fact: United States Army Generals Ulysses S. Grant, William Tecumseh Sherman, Philip Sheridan, and Joseph Hooker all had custom-made uniforms by Brooks Brothers. And the clothier has outfitted 41 of the 45 American Presidents, including Presidents Abraham Lincoln,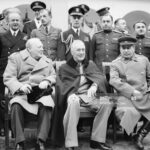 Ulysses S. Grant, Theodore Roosevelt, Herbert Hoover, Franklin Roosevelt, John F. Kennedy, Richard Nixon, Gerald Ford, George H. W. Bush, Bill Clinton, Barack Obama, and Donald Trump. In fact, Franklin Roosevelt wore a Brooks Brothers cape to meet Winston Churchill and Joseph Stalin at Yalta at the end of World War II.
Fun fact #2: Brooks Brothers did not make an off-the-rack black suit between 1865 and 2003. For many years, a myth circulated that the reason the company did not make black suits out of deference to Abraham Lincoln who wore a custom-made black Brooks frock coat, a gift from the company, when he was assassinated. It is not clear if this policy was the result or cause of the traditional American fashion rule that black suits in daytime for men are proper only for servants and the deceased.