Princes William and Harry were not the first British princes to marry non-royalty.
On April 26, 1923, Prince Albert, the second son of King George V and Queen Mary, wed Lady Elizabeth Bowes-Lyon, the youngest daughter of the Earl and Countess of Strathmore, at Westminster Abbey.
Years earlier, Albert had formed a romantic connection with an already-married Australian socialite. The liaison ended in April 1920 when the King, with the promise of the dukedom of York, persuaded Albert to stop seeing her.
That same year, Albert rekindled his acquaintance with Lady Elizabeth, whom he had known since childhood but not seen for many years. He quickly determined to marry her. Despite two proposals, she was reluctant to make the sacrifices necessary to become a member of the royal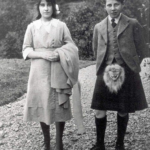 family. After a protracted courtship, and a third proposal, Elizabeth agreed to marry him. Their union that lasted 28 years.
The Duke and Duchess of York led a relatively quiet life, raising their daughters Elizabeth and Margaret, until 1936, when Albert's elder brother Edward VIII abdicated to marry the twice-divorced American socialite Wallis Simpson.
The Duke of York, known as Bertie by his family, unexpectedly became King in 1936 on the abdication of his elder brother King Edward VIII. His wife became his Queen consort.
Fun Fact : Elizabeth laid her bouquet at the Tomb of The Unknown Warrior on her way into the Abbey, in memory of her brother Fergus. Ever since, royal brides have laid their bouquets at the tomb, though after the wedding ceremony rather than before.