Once upon a time, there was a group of hunters who met regularly at the Westminster Hotel at Irving Place and 16th Street in Manhattan. The men, perhaps after an evening of drinking, decided to create a kennel club — an organization for canine affairs that concerns itself with the breeding, showing and promotion of more than one breed of dog, in the case gun dogs. In homage to their favourite watering hole, they dubbed it the Westminster Kennel Club.
The first Westminster show took place on May 8, 1877, making it second only to the Kentucky Derby, in terms of continuously held sporting events in the United States. (Both events were held despite the Great Depression, World War, and pandemic years.) It predates the American Kennel Show by seven years and became the first club admitted to the AKC after its founding in 1884.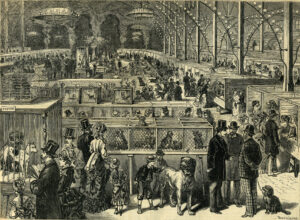 The inaugural show, held at Gilmore's Garden (renamed Madison Square Garden in 1879), drew over 1,200 dogs, mainly Setters and Pointers. In fact, it proved so they added popular that a fourth day to the schedule, with all proceeds from that extra day donated to the ASPCA. The first show's entries included two-legged dog named Nellie. Prizes included hunting gear such as pearl-handled pistols.
Anna H. Whitney was the first woman to judge a dog show in the United States, and she did it at Westminster in 1888. Her first assignment was 117 Saint Bernards and when she was done, they handed her a bouquet of flowers. She was among the first of judges to be AKC approved and would judge until 1918.
In 1924, Westminster was the first show to judge Best in Show under the new rules and format installed by the AKC, which separated all breeds into five groups: Group 1 – Sporting Dogs, which included at that time all Hound breeds; Group 2 – Working Dogs; Group 3 – Terriers; Group 4 – Toy Breeds; and Group 5 – Non-Sporting Breeds.
Best in Show Winners for the 1920s: