Italian immigrant Vincenzo Colosimo was gunned down on May 11, 1920.
Between his arrival in the US at age seventeen, and his death, Colosimo — aka James "Big Jim" or "Diamond Jim" for his obsession with the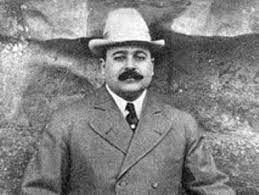 gems — carved out a criminal empire in Chicago built on prostitution, gambling, and racketeering. He also led the infamous gang, which later became known as the Chicago Outfit (aka the Outfit, the Chicago Mafia, the Chicago Mob, the South Side Gang, or The Organization).
Colosimo began his career as a petty criminal, a trade he may have learned in his homeland of Calabria, Italy. Whatever the case, he soon attracted the attention of First Ward aldermen Michael "Hinky Dink" Kenna and "Bathhouse" John Coughlin, the men who led what was often called the "world's richest ward". They made him a precinct captain and later their bagman. This gave Colosimo the political connections that helped him in his rise to power as a mob boss. Around this time, he gained his "Diamond Jim" nickname because he frequently dressed in a white suit and wore diamond pins, rings, and other jewelry.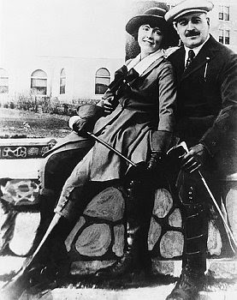 After marrying an established madame named Victoria Moresco, he quickly opened the second of a string of nearly 200 brothels. Within a few years, Colosimo had expanded into gambling and racketeering, reputedly making $50,000 per month from his various legal and illegal operations. His wife's nephew, Johnny "The Fox" Torrio, an enforcer whom Colosimo imported in 1909 from New York, ably assisted him in building his "brand." When the two opened a café, restaurant, and nightclub, Torrio hired his old Brooklyn colleague, Al Capone, to work as a bartender and bouncer.
Things went bad when prohibition went into effect. Torrio wanted to expand into bootlegging; Colosimo didn't.
About that time, he divorced his wife and remarried. Days after returning from his honeymoon, he received a call from saying that a shipment was about to arrive at his restaurant. Colosimo drove to the restaurant where he was shot in an ambush and killed.
Theories
The Chicago police suspected Torrio had brought Brooklyn-based gangster Frankie Yale in to handle the hit, but he was never officially charged as the only witness, fearing for his own life, refused to identify him in a lineup. They theorized Colosimo stood in the way of his gang making bootlegging profits and Yale murdered him on Johnny Torrio's orders.
A second theory suggests Colosimo's ex-wife arranged the murder, as she was unhappy with the financial arrangements of the divorce.
After Colosimo's mysterious demise, Torrio, and later Capone, took over running the Chicago Outfit.